| | | | |
| --- | --- | --- | --- |
| © 2018 Star Communications Holdings Corporation. All rights reserved. | | Tel. +63 (2) 563 9302 to 9304 | Email: sales@starcomm.com.ph |



POST-MISSION REPORTS TO YOU WHERE YOUR VEHICLES HAVE BEEN
WHEN THEY RETURN.
•
It
works like a

"Black-Box"

trip data recorder
• Reports where your vehicles have been, how fast and how far they traveled
• Reports all rear-cargo-door opening and closing as well as all engine on and off (where and what time)
• Reports violations such as SPEEDING or IDLING (engine on while parked)
• Reports allow you to conduct TIME and MOTION studies – loading time, unloading time, travel time
• ABSOLUTELY

NO MONTHLY FEES
POST-MISSION CONSISTS OF THE FOLLOWING:
1. 3rdEye Mobile GPS Unit – records trip data on to a removable MEMORY CARTRIDGE. One GPS Antenna and one Cargo Door open/closed Sensor included. One (1) unit per vehicle. Power source is the vehicle's electrical system.
2. 3rdEye Base Uploader – connected to your computer running the 3rdEye POST-MISSION Software. Reads the Memory Cartridges from your 3rdEye Mobile GPS Units to generate the reports. One for every fifty (50) vehicles.
When the vehicle returns, take the MEMORY CARTRIDGE from the
3rdEye GPS Unit and plug it into the BASE UPLOADER. Then run
the 3rdEye POST-MISSION Software to generate the reports.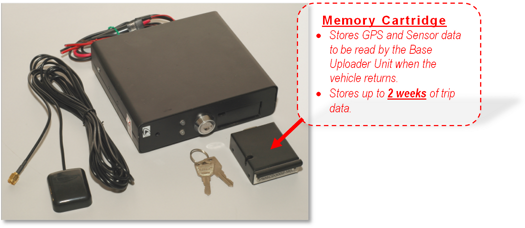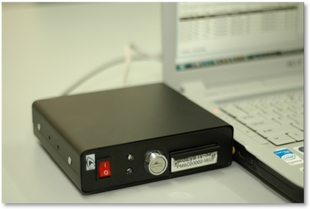 Back
The
3rdEye Post-Mission GPS

Tracker & Vehicle Monitoring System